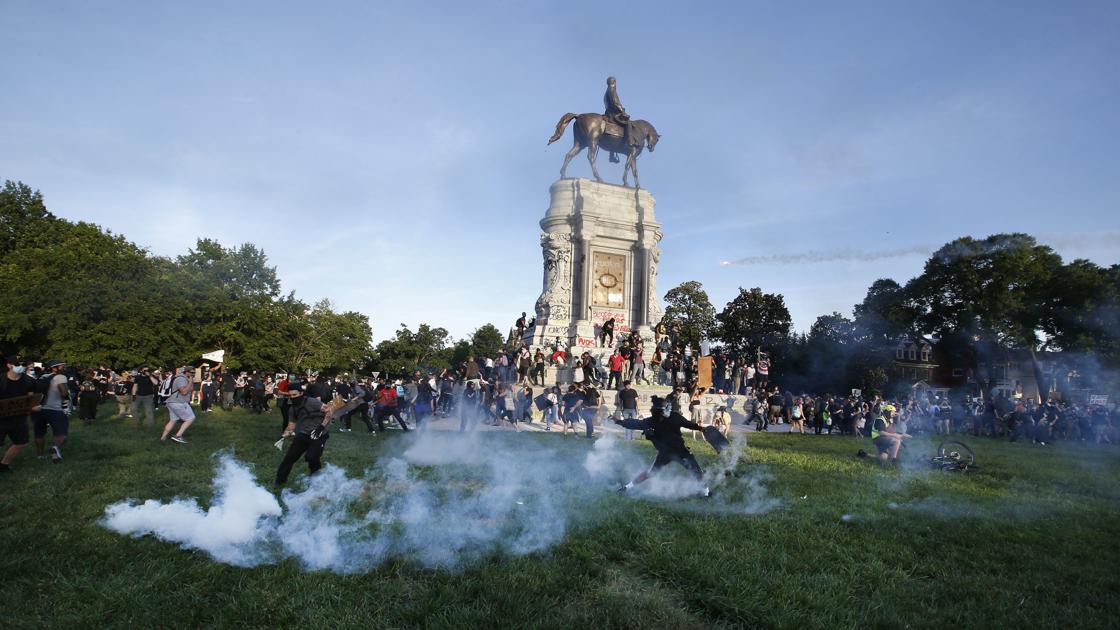 A request by the ACLU for an urgent situation court order aimed at curbing the use of tear gas and similar way of dispersing crowds of protesters was denied Tuesday.
In a seven-page order, Richmond Circuit Judge Beverly Snukals acknowledged citizens' rights to free speech and assembly, but wrote that the Virginia Supreme Court has consistently held that granting an injunction is "an extraordinary remedy."
"The citizens of the commonwealth have exercised this right frequently, and publicly, in recent weeks to protest George Floyd's death and police brutality," Snukals wrote. "This Court also recognizes, however, the strong public interest in promoting public safety."
The judge added that "an injunction would constitute an unwarranted intrusion into and interference with the ability of law enforcement to do its job during an unprecedented period of civil unrest."
In a prepared statement Tuesday, the ACLU said: "We're disappointed with the court's decision and we will carry on to fight in court to bring justice to people who are speaking out against systemic, anti-Black racism by continuing to pursue this lawsuit.
"While the court's opinion suggests that the appointment of yet another new police chief in Richmond leaves open the possibility that the tactics of police may possibly change, we fear the violent police response to protesters will continue to be the same as the faces in the chief's uniform have changed."
The Virginia attorney general's office, which can be representing the Virginia State Police in case, referred comment to the Richmond city attorney's office, which represents the Richmond Police Department. The city attorney's office did not instantly respond to requests for comment on Tuesday.
The ACLU, which can be representing youth organizers that are part of the Virginia Student Power Network, hadn't shown that the plaintiffs would suffer irreparable harm if the injunction had not been granted or that there clearly was a compelling public fascination with granting the injunction, Snukals ruled.
On Friday, the ACLU filed an emergency request to stop city and state police from using chemical irritants, explosives and similar devices to disperse peaceful protesters. Snukals listened to arguments from attorneys on both sides at a hearing on Monday.
The ACLU contends that city and state police used an overly broad interpretation of state law which allows a gathering to be declared an unlawful assembly and thereby employ tear gas as well as other forceful means to disperse a peaceful teach-in demonstration outside City Hall on the night of June 22-23.
The sit-in was attended by 150 people who intended to stay overnight and teach those in attendance about police violence and community advocacy. About 12:40 a.m., the authorities, citing blocked roads and related problems, declared an unlawful assembly and fired tear gas, flash bangs and other projectiles and arrested a dozen people.
The plaintiffs argued that under the law, a protest can only be an unlawful assembly if there are "acts of unlawful force or violence," which they argue were not present that night at City Hall. As a result, they do say, the police violated the protesters' constitutional rights to speech, assembly and protest and chilled the near future use of free speech.
Snukals, however, wrote that the injunction sought by the ACLU, if granted, would require the court to dictate crowd get a grip on measures to police as well as other measures that will unnecessarily burden police and jeopardize public safety.
"On the other hand," the judge wrote, "plaintiffs have the option in the future to protest without unlawful force, without blocking roadways, and without disrupting or jeopardizing public peace and order."
Claire Guthrie Gastañaga, executive director of the ACLU of Virginia, said Tuesday that the case will proceed and possibly to trial to get a final ruling on whether police are acting in compliance with their state law on unlawful assembly.
The standards for winning such an emergency ruling are high, and Snukals decided the ACLU did not meet them, she said.
"We're in the very early stages of this pretty complex litigation," Gastañaga said. She said the judge may next be ruling on motions to dismiss filed by the defendants.
The Virginia Student Power Network released a statement on Tuesday: "We strongly disagree with the decision of the court, and will continue to fight for protestors to engage in assembly and to vocalize their anger and frustration with those who are trying to maintain an unequal racial status quo."